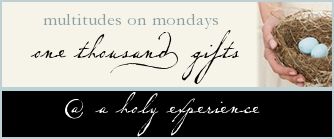 "This book is the most gorgeous thing I've ever read. Ever. Ann Voskamp weaves the sacred and ordinary into a tapestry of grace. And each beautiful word is a thread that binds our hearts closer to God's so He can fill our hollow places with joy. This book is the real gift--one that will stay with you and keep blessing your life long after you've read the last page." --Holley Gerth, editorial director, DaySpring
I have read Ann's blog
A Holy Experience
for ages, and when I heard she had written a book, I was intrigued.
I waited until my local
Koorong
had a copy, and I went in and bought it straight away.
And I am so glad I did.
This book is a gift from God.
Through terrible pain and tragedy, Ann asks, "How can a good God..."
And, the answer is: Thanksgiving
Ann's word for it is eucharisteo.
I now find eucharisteo everywhere.
Ann was challenged by a friend to write one thousand gifts from God down. And through the journey of finding them, Ann found her life transformed. In thanksgiving, she found a new way to love God, and experience His grace.
Through her book, I have found that I am not thankful enough. I glibly skim over the many beautiful and precious gifts that God so freely gives.
So I am starting my own list, and giving thanks to God.