Yet another project I am working on is a pettiskirt for Rona.
I was a little intimidated thinking about trying it, so I ordered a kit from
Dream Spun Kids.
Now, I started off with a piece of chiffon 5.5 yards by 60 inches (now I am in Australia so that was confusing, but it is 502 cms by 152 cms).
Then I cut it into 5 and 2 inch strips, ending up with:
* 16 5 inch strips totalling 2438cms in length
* 36 2 inch strips totalling 5486cms in length
Now.... can you say argh!?!?!
Now, to sew those into each of the tiers.....
And that is where I am up to.... I will post once I finish the skirt, it all depends on when I can sew after Rona goes to bed.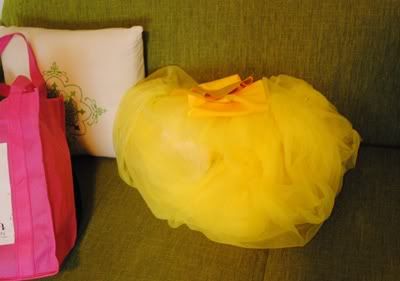 The large amount of chiffon I am working on :)
The lovely, in detail instructions from
Dream Spun Kids