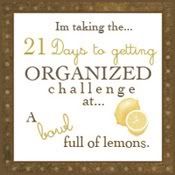 Yes, I know I am behind.... I am getting things done about once every second day, but I am getting there.
Today was a challenge I was really excited about - THE LAUNDRY ROOM
It is a room that I have been meaning to reorganise for ages.
Ah.... the mess!
It took me a while to get it done, but I feel so much better now.